Introduction
Another requested article, did cover this in a previous article in Part Two, https://my.wealthyaffiliate.com/content/edit/452039#, when it appeared under "Attract visitors to your site", in this article not only do I hope to go much deeper into this subject but as the title Funnel Building Secrets suggest, add one or two little extras that I have picked up from experts over the years.
Have always believed that passing knowledge or tips on is part of the enjoyment that one gets out of writing, whether it be books, notes or articles such as this, in some respects that is what writing is all about passing on knowledge so that others can learn, without the need to spend hours looking for it.
It is my hope that should you be well versed in the use of funnels, that you still find something of use in this article.
Why Construct a Funnel?
Suppose that the obvious answer is to attract people to your site to enable them to buy what you have to offer. Having got someone to opt in, you must now decide what to do next.
Just to repeat something which I have mentioned before an opt-in, is a form which you put on your site asking people to give you their e-mail details, it usually also offers a free gift, such as a report or e-book in exchange, as stated before please give good quality with your gift, not cheap rubbish.
One thing that you will need to decide is whether the Funnel is to be a short one or a long one.
A short one is where you get someone to opt in to your site, with the purpose of selling them just one item, or getting them to subscribe to your newsletter, with no additional items involved. Unless you really have a hot standalone item, personally think that this is a waste of a good lead, many others would disagree, but you must do what you feel is best. This method can also be used for just gathering emails, or building your list.
A long one is where you have the autoresponder set up with messages, so that your list can be kept informed what you have in the way of information, bonuses and offers, in other words a proper funnel complete with up sells, down sells and bonuses.
Before You Begin – What you Need
Here you need to decide what you have in the way of material or products. Do not forget that you will need an opt-in page to drive the customer to your sales page or website.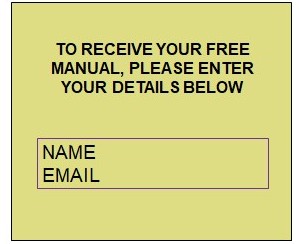 It is very important that the material which you offer, whether it be a free offer, a bonus or a product is first class as said in the paragraph above, offer rubbish or low grade and it will kill your business before you start to get it off the ground. If you are using PLR material from your supplier do get the best.
A basic example of an opt-in form is shown on the left, as I designed it, then you have my permission to copy it.
Some people use what is called the double opt-in system. When a potential customer fills in an opt-in form and submits it, they are sent an email asking them to confirm that they did send it. This cuts out any chance of you being accused of spamming, it also acts as proof that they did give you their email address.
The Correct Way To Construct a Funnel
As mentioned earlier you will need to decide if your funnel is to be one that eventually will offer more than one product, or just one. Is the opt-in page leading to your offer in fact for a funnel type product, or is it for a mailing list, membership site, or just one where you keep your list informed of updated information or what you have to offer in the future.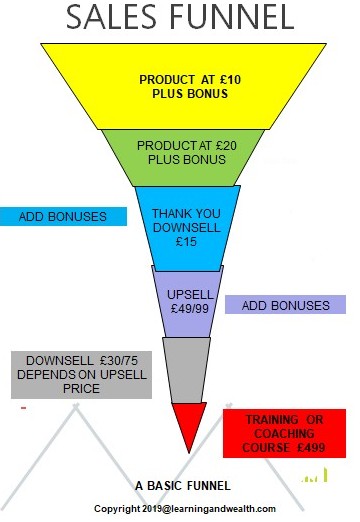 The construction of a funnel follows a defined pattern as shown in the infographic.
The pricing is just a guide from me, as people often worry about how to price their products and where to offer them in the funnel. It is not an exact science, but this funnel and pricing shown is a pretty average guide.
The important thing is that it gives you somewhere to start if you are new to this business of creating a sales funnel.
It is a good idea when putting your messages, offers and other items on the autoresponder too not just bombard your list with offers have two or three that have additional free tips or ideas about the subject. If you wish you can always give away another free gift.
Keeping them with just offers is likely to lose you a customer.
Get Help
If you need help suggest that you visit CindyBiber.com who is a total magician when it comes to funnel building.
Thought twice about including this company here. of which I am an affiliate, but as they do have some excellent products which deal with funnel building, thought that we might as well introduce you to one who is without doubt a very seasoned professional in the art of funnel building. Should add that she also produces some very useful checklists, some of which I am beginning to us in my business, Social Sanity is truly superb. This in fact is only partly true it is outstanding, I refer to it constantly. This is not about funnel building but hints and tips on social media., so I suppose I am giving you a free bonus here!
However, as usual I digress.
Cindy does do a very good Funnel Review Check List. Talking of check lists, pre-printed ones, even if you wish to tamper with them are really cool, because they save you a ton of work with bits of paper, or trying to remember what you have or have not done. Should point out that all Cindy's material is personal use only, so it must be good for me to recommend it!!
This should not stop you from downloading and or buying some of her check lists as you can then tailor them to suit your own needs, have them printed off, and at the side of you computer as you work on site content, social media or even your latest product.
As I have unintentionally strayed into almost a review mode, on her site you can also find:
Business Operations Manuals.
Marketing Operations Manuals.
Funnel Design Workbooks.
A most useful guide to comparing landing pages
Membership Ideas and Checklists.
A lot of other checklists.
These are just a few of the items on offer. It is worth a look, like all my recommendations it is free to have a look at the site and then make your own mind up.
Conclusion
As always do so hope that you have enjoyed this article, please leave your comments below which we do value as we do the time that you spend making them.
The next article will be "3 – Auto Responder- E Mails"
Be Happy, Healthy and Wealthy,
Stuart
https://learningandwealth.com