Introduction
The majority of you seeing the heading, will have differing answers from does he think that we are thick too are we just plain stupid. Do not mean to be offensive, or indeed doubt your intellect as hopefully you will see when I explain.
It can be a most versatile tool, which has numerous uses, hence the question can you use power point?
Hopefully by the time that you have read this article, you could have a new slant on just how versatile power point is, assuming that you are not already aware, in which case my sincere apologies.
Creating A Slide Show
The answer to this would be that most people can indeed create a slide show, as this is seen as the usual use for power point. Having created your slide show, do you do anything else before you show it to the world?
Such as add music, voice-overs, script or even animations? have used some of these effects for sometime to make my presentations a little more interesting, than me just talking or using words on the slide.
A picture might be worth a thousand words, but making that picture more interesting has got to be worth more, make them stand out and shout at your visitors. Make visits to your site even more memorable, if you can keep them looking for just a few seconds longer than it is worth the effort, or the extra time that it will take you to do it.
It is not the purpose of this article to teach all the wonderful things that can be done with power point, merely to point out some of its uses, it is really versatile, this is in addition to fading words in and out, also adding bells and whistles, what it can do when you know how to use it, can truely amaze you.
Missing from the above list is video, yes you can even do that, complete with music and soundtrack.
Make Your Post Different
The purpose of this article is to not only give you some ideas that you can use power point for, but how that it can help change the appearance of your posts to make them more appealing to your visitors.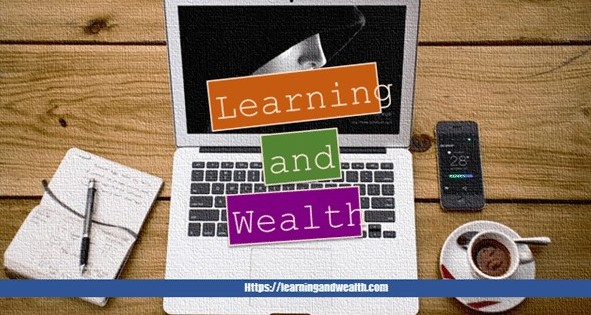 The above was taken from a power point presentation that I have which is Private Label Rights, what I have done is change the wording and add my website details. On this particular slide that is all that it is possible to do, as the background is fixed.
Do feel that given the title of the website that the background is actually OK, especially the coffee cup, the slide does shout out the message what the site is, much better than just a bold headline, this is what I mean by making your media stand out.
When you learn to play, you will be surprised at just what you can do by moving things about on differing slides.
Heard of Infographics?
Appreciate that most people have, but in case you are not aware, they are best described as a graphic containing points of interest or information. I call them a quick checklist which is easy to read.
If you subscribe to a Private Label Rights Program, you will find info graphics on them. Buy one that is editable, you will notice that they appear as ppt.x in English this is a power point slide. Open it and away you go, make as many changes as you want, for those that do not know how to do this. Point at the area you wish to alter, click, highlight and amend where you have highlighted. It really is that simple. Do not forget to save your changes, and give it a different title, so you do not lose the original.
You can also add graphics, change the font size and the colour. The good thing is that it now becomes yours.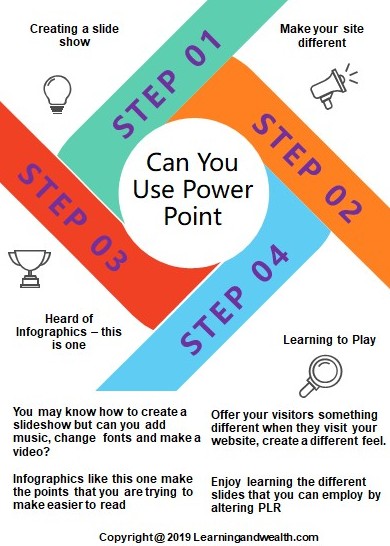 The above info graphic is an amended version that I have used previously, to show you just how you can use them, when you have an editable slide to play with. This one neatly puts the salient points of this post into one easy to read place. All the words have been changed, also the colour on the steps, the font has also been altered. Notice that the copyright for this info graphic has been added and now belongs to me.
In addition to using products with Private Label Rights, you can also use Canva.com as they do have a free info graphic template which you can play with.
Learning to Play
Using the above example you can now do what you will with any power point slide that is editable. Change what you want where you want, when you want. Some of the plr that I have, has a number of slide presentations, linked to varying businesses, I spend hours playing with them. My logo is the first thing that I usually add on any of these, two reasons for this, one to announce my site, two it reminds me that I am playing with this set of slides. (A silly tip from me, it is a good idea to make a note of where these slides are on your hard drive, I often have to search all over as I have forgotten the location).
As with the info graphics, you really can change anything, why not try to add some background music, you will be surprised at the difference it makes to the presentation.
In addition to a number of power point presentations that I have with private label rights too, I also have a collection of music tracks which I am able to use.
Having an extensive library of products which you have plr for, is for me, essential it makes writing articles, presenting slides, even writing e books a lot easier.
When visiting the site(s) that you obtain your private label products from, do spend a little time looking around, seeing what you can use to add to your power point slides, than onto your site, do not forget the music downloads.
Conclusion
As always do so hope that you have enjoyed this article on the uses of Power Point, also that if you were not aware before of some of the things that you can do, that you use them in your own website, to make your awesome post even better.
If you have any comments, please do leave them below, we not only value your feedback, but we do appreciate you taking the time to comment.
The next article is "Attract visitors to your site"
Be Happy, Healthy and Wealthy,
Stuart (aka Edwin)
https://learningandwealth.com