Introduction
This is the second set of articles in this niche, designed to help you learn to develop yourself, while learning to improve your wealth. Helping to improve your wealth will be mainly through the use of the internet and your website. Have decided to include a dedicated article which will not require you to have your own product, but making money using someone else's.
Have been asked by a number of people how, having sold one product how do they sell more to the same customers, without spamming or causing offense, so an article on this will be found in "Attract visitors to your website".
The infographic lays out the topics that will be covered, but so that it is totally clear what these articles will be about, have also listed them later on. Must point out that I am likely to change the order of these as I see fit, to enable some of the articles to flow, one to another. It is possible that some of the titles could be slightly altered.
It is also appreciated that there will be some repetition in some of the articles, both in this series and from the first series, this is to ensure that the content in an article is more understandable.
As always the end of a current article will mention the title of the article which is to follow.
Infographic
Some people find that viewing an Infographic is easier to follow then looking at a list, to cater for everyone am including both on this page. An infographic is better if you just want a quick look, rather than scanning down the full written word in a list.
It is not surprising though infographics are becoming popular amongst the internet fraternity, personally I love them, they add an extra dimension to a blog or web post, lifting the page from just words to creating another dimension for the visitor to your website, which in turn will hopefully keep them there a little longer.
The more interest that you can develop on your site the better it must be for those who have a look.
They are also great fun to create, though they take some time to design and organize exactly as you want them The one problem that I am beginning to find is that having planned my article, whilst I am writing it suddenly think oh! yes an infographic would be ideal here. This then throws the timing out completely, still it is all good fun.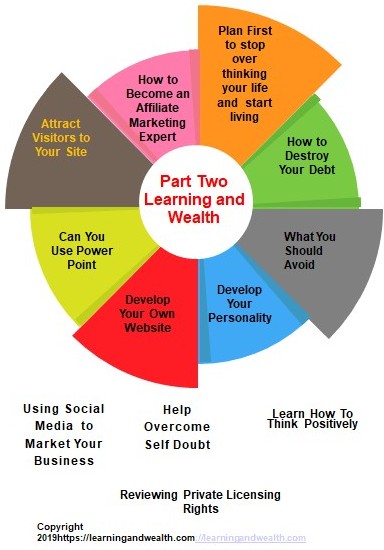 Thought Behind the Plan
This took a great deal of thought, what to put in and what to leave out, also the order in which they should appear, I have also had to bear in mind that in the long term there will possibly be another two sets of articles to come, again of twelve.
The subjects have been split roughly in half, so that some deal with developing you, the others with ways of improving and developing your website, and so your business, which hopefully will lead to you earning some extra cash, or as the website speak goes monetizing your site.
The full list of articles in this series or part two is as follows:
Plan first to stop over thinking your life and start living
How to destroy your debt
What you should avoid
Develop your personality
Develop your own website
Can you use Power Point
Attract visitors to your site
How to become an Affiliate Marketing Expert.
Using Social Media to market your business
Help overcome selfdoubt
Learn how to think positively
Reviewing PLR
Have not included this introduction, in this list.
Developing You
The articles that cover your own personal development have been chosen to try to embrace a number of areas, where you may need to either improve your current skills, or just to develop what you already have.
A brief view of these articles.
Planning; Do you have any plans in place so you can see what you are aiming for in the long term? If you do not have any defined plans in place, it is extremely unlikely that you will succeed in achieving any of your objectives.
Do You Have Any Debts: If so get rid of them, add them to your plan to deal with.
What You Should Avoid:Things that you really can do without in your life.
Develop Your Personality: No matter how old you are, you can always develop your personality further.
Overcome Your Self Doubts: We all have nagging doubts, get rid of yours.
Think Positively: Learn to think positive thoughts.
Developing Your Business
As I explained in the first set of articles, whilst the word wealth is not just about making money, giving you some idea of how you could increase your income on the internet, especially if you have or intend to have a website, it would be a wasted opportunity if I did not try to help you to make a living or at least earn some extra cash.
A brief outline of the articles which I have included this time are as follows:
Developing Your Own Website: Getting it up and running.
Can You Use Power Point? A versatile tool to use on your website, making it more attractive to visitors. Power Point was used to make the infographic.
Attract Visitors to Your Site: No visitors no money!. Some ideas to help you.
How To Become An Affiliate Marketing Expert: Make money by promoting other people's products.
Using Social Media: Appreciate that I did briefly cover this in the previous articles, this is much more in depth, how Social Media can help you to really market your business.
Reviewing PLR: An in depth look at a PLR company, showing you exactly what is available and how it can help your business to grow.
Conclusion
Do hope that this introduction to my new set of articles has given you a brief outline of what it hopes to achieve in regard to both your learning and wealth. If you have any comments please leave them below, we do value your feed back and appreciate your taking the time to do so.
Should you have any topic that you would like to see in the future, do please let me know, and I will see what I can do.
The next article is "Plan first to stop over thinking your life and start living"
Stay happy, healthy and wealthy.
Edwin (aka Stuart)
https://learningandwealth.com